BEVELED GLASS AND BENT GLASS
A full service restoration shop, we can replace the curved/bent glass in china cabinets and display cases as well as duplicate the beveled edges of mirrors and glass to achieve the original appearance of your heirloom.
CANING AND WICKER REPAIR
We provide all types of cane weaving for new and old chairs and other furnishings, as well as hand or machine woven cane replacement, rush, reed, or Danish cord seats. New rattan reed seats were woven for this antique car restoration to ensure an authentic reproduction.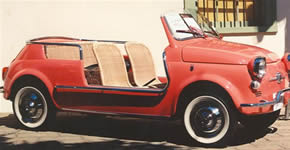 This 1960 Fiat Jolly car is typical of tropical resort vehicles in the 60's and 70's. Can't you just see Elvis in it singing "Blue Hawaii?" Â  Â The collector ultimately sold the antique car at auction. We have since restored several sets of jolly car seats, and we're now working on another one.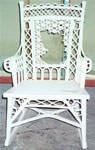 A client found this Victorian era, Heywood Wakefield wicker & wood rocker and knew we could restore it.
After the paint was removed, it was restored to the original finish showing off the natural wicker color. The seat cane was replaced and the back was hand woven in a Star of David pattern.