CLIENT COMMENTS
Below is a sampling of actual comments from clients that took the time to write a note to us about their experience with Little Jack Horner's. We appreciate their confidence in us.
I meant to respond much earlier – the furniture looks great! Molly sent us some pictures too. She and her roommates are so happy with it in their home!
Thank you so much for the care and attention to detail you put into restoring this for our family.
Cheers, Kelly
Houston (2018)
To Jack & Team –
Thank you so much for the wonderful job on refinishing our dining room set and trunk. They turned out fabulous and are now beautiful pieces of furniture in our house. I am so pleased that we brought our furniture to wonderful caring hands.
– C. Family (2017)
I want you to know how beautifully you finished the table and chairs returned today and how proud my Step dad would be to see it all renewed. It will be going in my sons home and it means so much to him to have something his grandpa built. So thank you from us all!! Your delivery guys were so great, polite and very careful with the furniture. Really sweet guys.
Danny M
Weatherford (2016)
Just wanted to let you know what a beautiful job you did on our bedroom furniture. I absolutely love it and it is looks so much more beautiful than I expected. Thank you very much for a great job. Money well spent!!
Nancy G.
Fort Worth (2016)
Just got home …tables look fabulous! Thank you for your special efforts! Really great!
Hila E
Dallas (2016)
Sorry for the delay in responding. I just arrived home.
1. The work that you did on the desk and credenza is first class craftsmanship. Amazing!!
2. My wife tells me that the delivery men also did a great job and took their time in carefully moving and assembling the furniture.
Thank you for your workmanship and attention to detail.
Mike
Granbury (2015)
Viv & Joe,
Appreciate the work on the cushions AKA my dogs favorite toys. Y'all are the best!
Laura
Lantana, TX (2015)
Thank you so much for restoring the beauty and grace to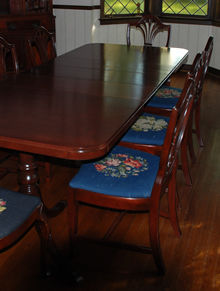 our house, making it more and more like a home. We sure are very, very pleased to have made your and Ms. Vivian's acquaintance, enjoyed our visits – Thank you for making us feel so welcome.
See you soon,
B. Poolville, TX
Dear Joe,
Wow! What a beautiful, quality piece. I look forward to using it when your furniture arrives. 🙂 Thank you so much and best wishes!
Sincerely,
N.B. Utah
I am really enjoying sitting outside on our great furniture, and they look great! Thank you!
See you soon I'm sure,
Janie, Fort Worth
Thank you Joe! You will be the first person I call whenever I need something restored.
Mary, El Paso, TX
"It looks so beautiful!!!!
I love it – thank you!"
Aimee F, Dallas (table & chair set)
"I love my bed. It is perfect! I waited five years to buy a bed after we lost everything in Katrina and it was well worth the wait. If I had not visited your shop with my sister Sandra, I would still be looking for what I wanted. Everyone I show the bed to is very impressed with the workmanship."
Beverly D
"… they look awesome. Thanks for rushing them for us. See you when I figure out my next project!"
K. Smith
Dear Joe and Vivian,
Thank you so much for the superior work you did refinishing/restoring our library table. It is just beyond words how beautiful it turned out.You are truly are gifted craftsmen.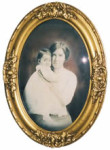 Sincerely,
Kelly S
Fort Worth
Thank you so much for the fabulous work you did on my furniture! I got them home and placed them and they are absolutely stunning….
Thanks again and have a great holiday.
Kurt L
Ennis, TX
This is the 4th time we've had items repaired/restored by you and I just wanted to let you know how great a job you do. That's why we keep coming back. We've had things done for ourselves and family members and all have been very ecstatic. Your quality and customer service is worth every penny.
Vince & Sherrill Hash
Robert delivered my chair Saturday!! I love it!! Thank you very much for a job well done.
E.B., Troy, TX
Nice job! The suiseki looks fabulous.
Rosemary, Ft. Worth
I received the glass today…all intact and fit well. It was well worth the wait as the curio means a lot to me! Thanks for your help"
Debbie, St Louis, MO
The table and chairs look absolutely great! Thank you.
A. M., Weatherford, TX
Thank you for the beautiful work on my Grandmothers chair. I can't wait to get my table done.
L. S., Willow Park, TX
It all turned out so beautiful, we are very proud of the pieces. Thanks again.
J. K., Cresson, TX
After searching unsuccessfully for more than three years for just the right dining table for our remodeled home, we contacted LJH for help. We explained what we wanted, and now we have exactly what we want!!! Thank you, Joe and Vivian.
B. M., Eastland, TX
We want to thank you for your impeccable workmanship on our antique secretary, credenza, and hope chest. Through your flawless endeavors they have become family heirlooms. Continued success and best wishes.
T. & N., Granbury, TX
The chairs are part of a very fine breakfast/luncheon dining set that we purchased in St. Louis in 1982. We are extremely pleased with the work you have done on the rush seats. The workmanship and finish is very fine. We very much appreciate your work.
J. S., Fort Worth, TX
My table is absolutely beautiful. Your workmanship on it is exceptional. I cant thank you enough.
M. L. S., Shreveport, LA
I wanted to let you know that I have had SO MANY compliments on the fine work you all did on the restoration. They all just cant believe it. Thanks again for a great job.
T. C., Grand Prairie, TX
You did a fantastic job on the furniture. We should be able to enjoy it for many years and Ill pass it down to my son one day.
J. T. K., Fort Worth, TX
Thank you so much for the photos! It means so much to me to have a picture of the work in progress. I sincerely appreciate you doing such a good job with my furniture. Also, I appreciate you and your wife sharing your knowledge of our furniture with us.
K. W., Frederick, OK
Thanks and my new/old furniture looks wonderful in my new home. Thanks to you and your family.
J. C., South Fulton, TN